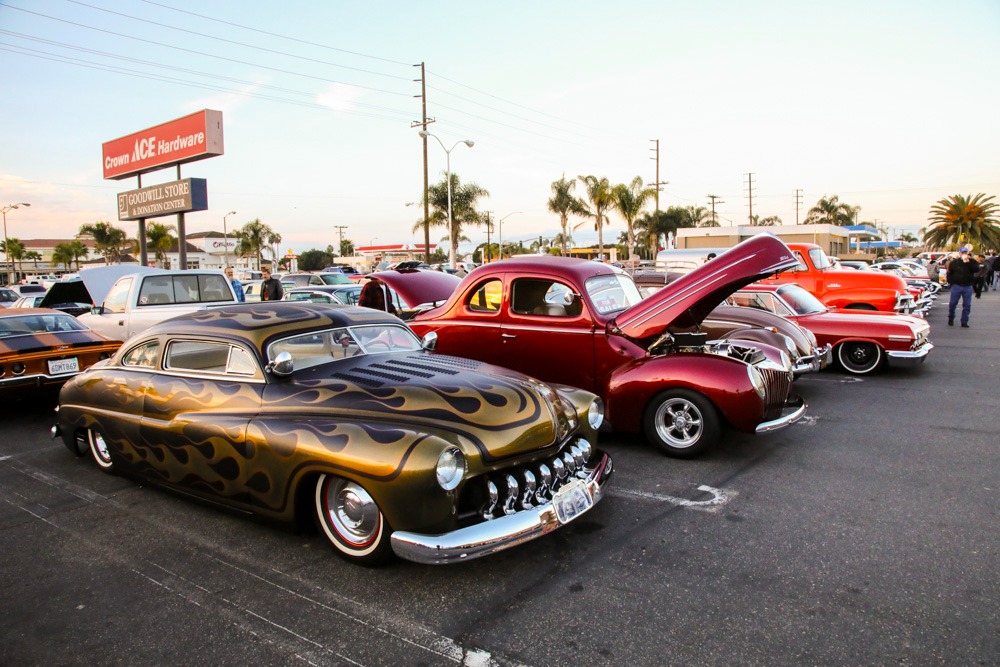 Donut Derelicts Car Show (Part 1 of 2)
Adams Avenue Donuts doesn't look too different from the 20 or so donut shops in Huntington Beach, California. If you're rushing to work by the corner of Adams Avenue and Magnolia Street, you might drop in for a quick bite. It looks ordinary enough inside with friendly people tending to your order behind a glass case. Among the delicious delights displayed are glazed twists, vanilla sprinkles, bear claws, and Boston creams.
Of course, they serve coffee and more substantial fare like ham and cheese sandwiches. And you might notice the display of t-shirts on the wall. But there's nothing here to make you linger unless you come by on Saturday mornings. Then you'll marvel at the collection of classic cars and hot rods that are parked in the lot outside and being admired by locals and out-of-towners alike.
Cars and More Cars
You just wandered into the Donut Derelicts Car Show, a gathering of those from "whom fast is never fast enough, shiny is never shiny enough, and at the cost of all else; seeks the ultimate fellowship with others who share the 'addiction' for all that is mechanical."
Up to 300 people show up every Saturday morning to admire, show off, and talk about classic cars, hot rods, stock cars, collectibles, and all things related to the automobile. Many of the vehicles are souped up with flashy paint jobs and flawless detailing. You'll find many hoods opened to display engines that are shiny with chrome and loaded with augmented components.
Admission is free, although some in the crowd are here to buy and sell the street wonders. But come early because the show only goes on from 6 to 9 am. Some of the celebs who show up include the director of the Petersen Automotive champion, drag racers, hot-rod builders, and head designers for major auto companies.
If you're interested in displaying your unique ride, just show up. There is no pre-registration, fees, or categories. Your biggest hurdle will be to squeeze into an open space that will get you noticed. Signs, pamphlets, or any docs explaining your mechanical beauty are welcome.
A Short History
The official Donuts Derelicts website, puts the start time of this "biggest and freest car show" in February 1985, when some auto lovers decided to meet at the donut shop with their cars. Owners of local street rods and other vehicles began to join them to fill up the parking lot. Jim McCain started a phone list that included over 90 names and titled it "Donut Derelicts." The name, as well as the list, are still around.
If you want to support this effort with more than just a visit, check out the products up for sale on their website. Most consist of t-shirts emblazoned with the group's name as well as a snazzy-looking car. They also have hats, stickers, and decals. You can also sign on to get on their email and promotions list.
Donut Derelicts Car Show (Part 2 of 2)
Among the crowd, you'll find many members who work at the dealers of the Beach Boulevard Of Cars. They love the four-wheeled marvels as much as you do and often draw parallels between the vintage collectibles and modern offerings that will one day turn into classics.
Still Around
Take the Ford Mustang, which has been manufactured continuously since 1964. It initiated the pony car segment of convertibles and coupes with a long hood and short deck. No one could have guessed that this muscle car would evolve into the 2021 Ford® Mustang Mach-E, a futuristic SUV with an EPA-estimated all-electric range of 230 miles but with a 0-60 rush of just 5.2 seconds.
If you spot a 1966 Dodge Charger, you'll notice a fastback roofline reflected in the current 2021 Dodge Charger. V8 power was in the model then as it is now.
You'll find many a VW Beetle from the retro era, which bears little resemblance to the 2021 ID.4 Pro S in shape and power. The former is a gas-powered cutie. The latter is an all-electric SUV with a flexible interior. In contrast, Jeep silhouettes have remained consistent throughout the years with the seven-slot grille and removable doors and top featured in the 2021 Jeep Wrangler.
Then there's the 1955 Chevy with its two-tone paint job and options that were innovative at the time, including power steering and air conditioning. The brand has since expanded to include cars, trucks, SUVs, commercial vehicles, and electrics. With its sleek lines, precision engineering, and wireless connections to smartphones, the 2021 Chevy Corvette Stingray is bound to become just as collectible as its more vintage cousins.
Their long histories mean some brands developed innovations that are still used today. If you're lucky enough to see a 1951 Chrysler Imperial, know that it was the first car to use power steering. The feature is now standard on the 2021 Chrysler 300 and the 2021 Chrysler Voyager and other vehicles from every manufacturer.
Gone But Not Forgotten
You'll grieve over models from brands that are no longer around, such as a 1942 Plymouth Savoy, 1964 Pontiac Banshee, and Packard convertible. But our dealerships also include models from brands that didn't exist back then in the US, such as the distinctive-looking 2021 Kia Soul, the fuel-saving 2022 Toyota Prius, and the sporty 2021 Mazda MX-5 Miata convertible.
Pickup trucks abound, with some lovingly restored to their original conditions while others were customized with unusual colors. As good as these vehicles were for their time, they don't compare to behemoths we have today, such as the 2021 Ram 3500 that flexes with up to 420 horsepower and 1,075 lb.-ft. of torque while towing up to 37,100 lbs. You can still stay small with the 2021 Nissan Frontier, which is a joy to drive in the city.
Call Us
If you want to interested on more about the Donut Derelicts or modern vehicles, contact us at Beach Boulevard of Cars. Our knowledgeable sales staff can give you your answers. They may even invite you down to take a test drive.