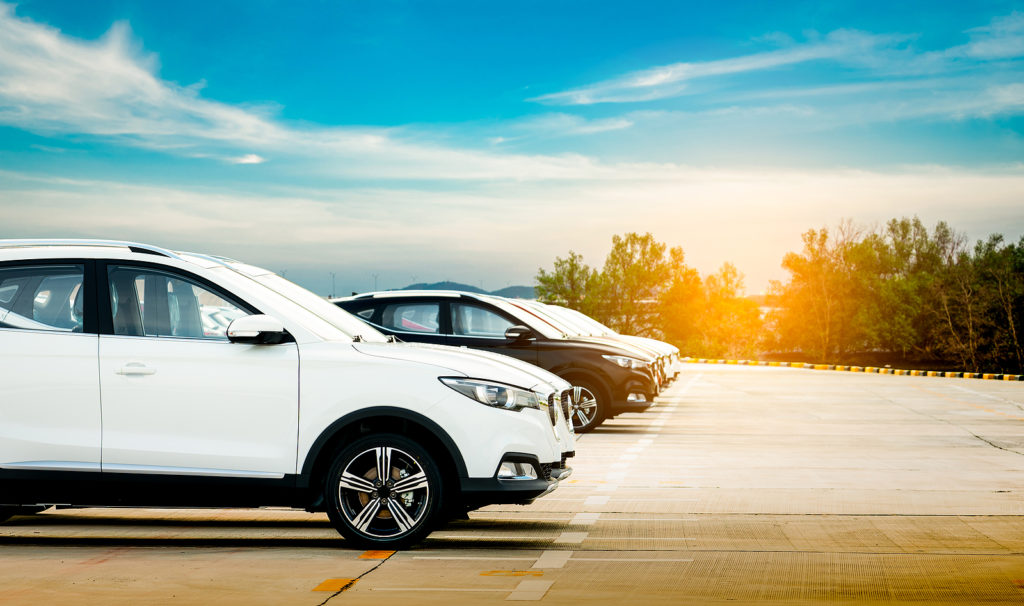 SUVs have remained popular because of their flexible interiors, high-tech amenities, and the power to conquer highways or trails. For 2022, here's what to expect what is coming for this category from the dealers at the Beach Boulevard of Cars in Huntington Beach, California.
Chevrolet Bolt EUV
The 2022 Chevrolet Bolt Electric Utility Vehicle takes you up to an EPA-estimated 247 miles on a full charge while rushing you from 0 to 60 in 7.0 seconds. Let Super Cruise™ drive you hands-free on over 200,000 miles of compatible roads.
Dodge Durango SRT
Entering its fourth generation, the 2022 Dodge Durango updates the front fascia and modifies the taillights while putting new air intakes and rear spoiler on the SRT. The optional 6.4L HEMI V8 excites with 475 hp and 470 lb.-ft. of torque.
Ford Mustang MACH-E
The 2022 Ford Mustang MACH-E takes muscle-car classic into the 21st century as an all-electric compact SUV that rushes from 0-60 in as fast as 3.5 seconds while taking you as far as an EPA-estimated 305 miles on one charge.
Honda CR-V
Transforming information, communications, and entertainment in the 2022 Honda CR-V is an infotainment system that includes a 10.2-inch digital instrument cluster behind the wheel and a 9.0-inch touchscreen that merges your phone through Apple CarPlay® and Android Auto™.
Hyundai Kona N
The entirely new 2022 Hyundai Kona N adds thrills using a 2.0-liter Turbo GDI 4-cylinder that roars with 280 horsepower and 289 lb.-ft. of torque. Boosting performance is the eight-speed Wet Dual-Clutch Transmission with rev-matching, N-Corner Carving Differential, and Active-Sport Exhaust with Dual Tips.
Grand Wagoneer
Enhancing the luxurious touches in the 2022 Grand Wagoneer is the Certified Wagoneer experience. This program puts you in touch with specially trained Wagoneer Ambassadors who can guide you through sales and service in upgraded lounge areas or completely online at your convenience.
Kia Niro
The 2022 Kia Niro heads for the second generation with a redesigned exterior and exterior and a hybrid engine that is more efficient. To make it more competitive, this compact SUV may also increase ground clearance and add an all-wheel drive.
Mazda MX-30
Launching the brand into the EV market is the 2022 MX-30 subcompact that will include a plug-in hybrid option. Its front-mounted electric motor will generate 144 hp with help from the 35.5-kWh lithium-ion battery pack.
Nissan Pathfinder
Redesigned with a rugged exterior to appeal to modern buyers, the 2022 Nissan Pathfinder impresses with more length, width, and height but still carries up to eight passengers on three rows. A nine-speed automatic replaces the Continuously Variable Transmission.
Ram SUV
Perhaps closer to rumor rather than reality, the unnamed 2022 Ram SUV will most likely use the standard body-on-frame layout with independent suspension to smooth out the ride for a trio of rows filled with occupants. Engines can include a 305-hp 3.6L V6 and a 395-hp 5.7L V8.
Subaru Outback Wilderness
The 2022 Subaru Outback gets a new Wilderness trim that lifts the standard 8.7-inch suspension to 9.5 inches. Highlighting the exterior are Anodized Copper accents on black trim. With dual-function X-MODE settings like sand, mud, and deep snow, you can depend on added wheel-slip to surmount uncertain conditions.
Toyota bz4X Concept
Making the all-electric 2022 Toyota bZ4X more distinctive is an open-concept interior with open space under its center cluster and an instrument cluster that sits far in front of you, which the brand says improves forward visibility.
Volkswagen Taos
All-new for the current model year, the 2022 Volkswagen Taos features a digital cockpit that helps you control the 158-hp turbocharged engine and seven-speed DSG automatic transmission. Available 4MOTION® all-wheel drive automatically manages power between the front and rear axles to maximize stability and traction.