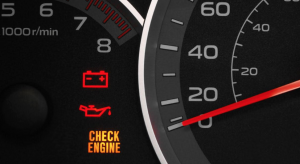 Whether you drive an older model Nissan Versa or a brand new Dodge Challenger Hellcat, your vehicle has an engine warning light. While it is tempting to ignore this alert system when you have a day planned for hanging out on Huntington Beach, it can end up causing you more problems down the road.  Let's find out some basics associated with this alarming yet common warning light on your dash.
What is the Engine Light?
The engine light comes on when you first start your vehicle as part of the ignition diagnostic cycle. It goes out after everything checks out. If the engine light stays on or illuminates while you are driving, that indicates that a problem with the engine or exhaust has been detected.
Common Reasons Why the Engine Light is On
While an engine can tell you something serious is happening under the hood, many times it is a notification that service is required sooner rather than waiting for your next oil change. Reasons, why it turns on, can include:
Loose gas cap
Hole in your exhaust
Failed spark plug
Loose ignition wires
Failed oxygen sensor
Loss of oil pressure
Overheating
What Should I Do when the Engine Light is Flashing?
While every vehicle is slightly different, most cars come with an engine light that can change how it is displayed according to the severity of the problem detected with the engine. If the light is red, blinking, or you have a message on your driver information center for immediate service, pull the car over as soon as it is safe. You will need to check that you still have proper oil pressure, the engine is not overheating, and that nothing is broken.  If you find an obvious problem, call for roadside assistance and have it towed to your service center.  If nothing is wrong, proceed with caution to your service center, or your vehicle may suffer more severe damage.
If the light is yellow or orange and steady, you will want to have the car diagnosed at your earliest convenience. The diagnostic code will tell you which part has failed. However, do not wait too long as the vehicle may put itself into a handicapped driving mode to protect the drive train. You can experience poor fuel mileage and lack of acceleration in this instance.
How to Diagnose an Engine Light
Every vehicle built in America after 1996 has an onboard diagnostic (OBD2) computer interface. Take your vehicle to its local service center, and the technician will plug in the OBD2 device and be able to read the error code on their display. You will then be able to make a plan to have the problem repaired. Some more modern cars with a driver information center may have a vehicle diagnostic menu that provides some basic vehicle performance information. If your car has one, you can scroll through the notifications and perhaps be able to find the problem yourself.
If your engine light is flashing, now is the best time to bring it into your preferred Service Center located on the Beach Boulevard of Cars and keep your ride ready for a summer of cruising along the sunny California coast.